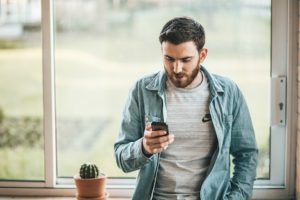 Technology is constantly evolving in all areas, including real estate. In today's world, we're obsessed with tablets, smartphones, and just screen time in general.
Yet, many real estate businesses are making the mistake of not including mobile apps in their marketing mix.
Why do brokers and agents need a website and an app?
As a real estate professional, you're probably wondering why you need an app when you already have a great website. One reason is that apps provide a better user experience. Your clients are using your technology because they want a convenient way to search for homes. So your goal should be to provide potential
and existing clients with the best possible home search experience, and apps are the answer. Here's why.
Apps are optimized specifically for mobile interaction.
A mobile site utilizes all of the information from a desktop website and adjusts it for smaller screens and touch exchanges. The end result is an information-laden experience, full of distractions and details. However, because mobile apps are used later in the sales process, they can omit a lot of the detail on the desktop or mobile site. Mobile app users simply want to search for homes in the most convenient way possible.
Apps are compact.
Due to size restrictions, apps have to focus only on what users want or need the most with no room for excess. Without all the interruptions that are required on a desktop or mobile site, real estate apps can concentrate on the goal of creating the most effective property search possible for each device. Every function and feature is optimized for device-specific communications, and that creates a sounder user experience.
Apps involve more user engagement.
According to USA Today, almost 90% of millennials are never apart from their phone. And as a real estate agent, that means you have the opportunity to connect with a large percentage of the buying population at any time. But apps have another tool outside of the app, and those are push notifications. This means that once a client has the app, you can send push notifications directly to their mobile device.
These push notifications much better at encouraging user engagement than an email. And best of all, they keep your users returning to the app, time and again, which ultimately results in more property closings.
Apps create brand loyalty and recognition.
Adobe determined that apps are used more often and for longer periods of time than mobile websites and found that creating a mobile app is a worthwhile investment because users are more loyal to the brand that offers an app.
Major gateways like Redfin and Zillow already have their own apps.
Many buyers and sellers don't like to view real estate on the mobile web. In fact, they'll avoid it and look for apps instead. When the only apps available in a particular market are from major portals, users are virtually driven straight to these competitors, who are then presented with the prime opportunity to secure their business.
If real estate agents truly want to compete with these portals, at the very least they need to be on the playing field. Mobile apps put brokers and agents in the game and provide the opportunity to maintain mobile traffic on their own site.
At the end of the day, there are a lot of really great reasons to invest in a mobile app, and data indicates that consumers agree. If you are stuck in the past and are ready to step into the future, contact us today. Regardless if you are new in the business or a seasoned professional, our apps will help you streamline your business and connect with clients much more easily.