Holiday Marketing to Target Clients
Mobile technology is great. We'll be the first to admit it here at SnApp Real Estate, having developed several mobile apps for agents and brokers, but sometimes, less is more.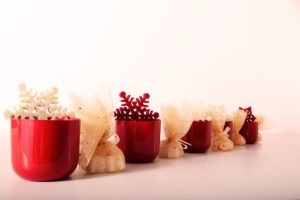 Business doesn't slow down for the holidays. In fact, for some, it picks up significantly, and making sure you're getting your name out there for holiday homebuyers is of the utmost importance. Regardless of the industry, we're all looking for ways to spread the holiday cheer. But for real estate professionals, utilizing the holiday season to show your appreciation for clients, as well as market one's skills and services, will make a positive impact the new year to come.
Below are a few ways you can engage your clients during Christmas, so when the new year rolls around and homebuyers are back on the hunt for a new home, your name is at the forefront of their minds
Deliver holiday items
Whether a gift card to a popular store or a tin of holiday cookies, everyone loves getting presents. According to Inman.com, there are several things you can do, including:
Make hot cocoa jars, add a small bottle of Kahlua and drop them off on door steps.
Drop off cookie dough and cookie cutters with sprinkles and frosting.
Deliver holiday ornaments.
Deliver poinsettias or amaryllis bulb kits, which will bloom year after year.
Stop by your favorite businesses and drop off poinsettias, treat bowls and a card.
Deliver holiday wrapping kits.
If you're especially in a holiday mood, you can dress up as an elf, Mrs. or Santa Clause, an elf, etc.
Call or write a note
Clients appreciate personal touches, especially during the holidays. Writing a personal note to a client you've worked with in the past—who you know is currently still in the process of looking for a home—will leave them with a positive impression of you. Using social media such as Facebook or Snapchat to leave your clients private messages can be more instant than mailing off letters. However, the nostalgia of receiving a handwritten letter or card in the mail may make a much larger impact on clients.
Host social event
The holidays can be hectic for both you and your clients. A great way to help relieve stress for client is to host a little shindig to thank your them for being clients. You can also host contests on your social media platforms offering clients a chance to win holiday gift cards.
Engage With Your Own App
If you're a real estate professional who is seriously looking to engage clients this holiday season, we've got the personal option for you. Here at SnApp Real Estate, we are an experienced real estate mobile app development company that promises to build you a high performance real estate mobile apps, that will help you streamline your business and connect with clients easier. Take advantage of our easy to use and customize application technology.