Social media marketing for real estate mobile apps
When Facebook was first introduced, it was restricted to just college students to share and associate with one another. Back then, it seemed as though it's only usefulness was connecting with those you maybe hadn't seen since high school or college. Now that Facebook has evolved into a multi-purpose, social media giant, different industries, including app development companies are finding it useful in connecting with customers and marketing their App and services.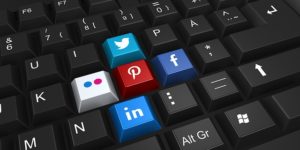 Real estate agents and brokers have found Facebook to be a great marketing tool in this new tech age. Mobile marketing through Facebook and other real estate technologies can help professionals solidify strong networking and face-to-face relationships that are crucial to the real estate business. The following tools serve to emphasize the growing practicality of these features and functions on Facebook specifically.
Creating events
We can all remember when creating events on Facebook was reserved for parties and family get-togethers. Now, real estate professionals can create events for property listings that can be reached by interested buyers immediately. Per Inman.com, "The data gleaned from an event posting can offer great insight into how the property is being received; RSVPs, comments, likes and shares all provide immediate feedback."
Creating and sharing albums
One of the most invaluable, and lesser used, tools on Facebook for real estate agents are albums. By creating and sharing albums, real estate agents and brokers can tag friends, family members and potential clients in photos of new properties. This feature allows clients to comment on pictures and stay in constant communication with real estate professionals and set up showings within minutes.
Geo-targeted ads
Marketing to the consumer is all about being able to target the specific audience you want. Inman.com says, "Agents have the opportunity to reach a geo-targeted audience based on location, socio-economic criteria, buyer interests (i.e., hiking, if a property is near great trails) and more." With geo-targeted ads on Facebook, real estate professionals also have the opportunity to expand their marketing reach to home buyers who are new to the game.
Social media metrics
Unlike traditional marketing methods, where data collection can take days or weeks to compile and compare, Facebook metrics makes data analysis instant. According to Inman.com, "Engagements, clicks, likes, share, comments are all data used that refines your messaging on a property and creates opportunity to engage with potential buyers and achieve the ultimate goal of a successful closing."
Apps
If you're a real estate professional who is seriously looking to engage clients in the new year, we've got a great option for you. Here at SnApp Real Estate, we are an experienced real estate mobile app development company that promises to build you high performance real estate mobile apps for agents and brokers that will help you become (or stay) technologically savvy in 2017. In tandem with your social media account's specific features, these apps will help you streamline your business and connect with clients easier. Take advantage of our easy to use and customize application technology.