Mobile app development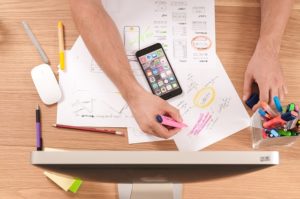 It's always good to have a plan before making a move. This is a good rule of thumb in pretty much everything you do. As real estate professionals, having a plan of action is even more dire in order to juggle the multiple responsibilities of the job. When you're thinking of crossing your business over into the technology realm and utilizing a mobile app, process-related plans can be the difference between having a mobile app that works for you and having one that works for your users.
So, what are some process-related mistakes real estate agents make when they start thinking about smartphone development and incorporating a custom mobile apps into their businesses?
Assuming your real estate app will go viral
In today's age, it seems like any and everything is going viral. Societal perception may tell you all you have to do is introduce your real estate app to the world and people are going to flock to it moths to a flame. Unfortunately, unless you're a household name and media is stalking you 24/7, you're going to have to do a bit of marketing to get your app noticed by homebuyers.
Developing an app without a fully planned out design
Sometimes, it's better to just wing it. But when it comes to designing your real estate mobile app (or working with a designer), "winging it" is never the way to go. According to Developer-tech.com, strategy should always be the name of the game here. It's important to research and find out what kind of interfaces are resonating with mobile users and homebuyers.
Not setting and meeting measurable goals
When you've got a professional mobile app developer at your disposal, they will likely be the ones who will set schedules and goals for your project. However, it's important that, on your end, you set a release schedule for your app and map out a marketing plan to get the word out about it. This way, you'll be able to inform your app developer of your estimated deadline for the project so he or she has enough time to give you everything you want.
If you're a real estate professional who is seriously looking for a mobile app developer that can give you exactly what you need. Here at SnApp Real Estate, we are an experienced real estate mobile app development company that promises to build you high performance real estate mobile apps. Our apps will help you streamline your business and connect with clients easier, not to mention they are truly affordable.