Tech Trends for Real Estate Professionals
With the new year just around the corner, as a real estate professional, you're probably wondering what 2017 will bring us by way of technology. While mobile apps for real estate agents and brokers are continuously evolving, new technologies in other areas are steadily emerging. And being the tech-savants we are, we use them to our advantage.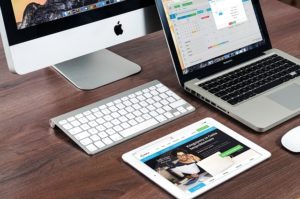 Virtual Reality
Consumers have been enjoying the thrills of virtual reality (VR) for entertainment purposes, mainly in the gaming industry. Now, many millennial buyers and sellers have come to expect the virtual reality and 3D experiences. If you think about it, when was the last time you saw a movie playing in theaters that didn't have a 3D option? VR has seeped into our society's collective expectations, and that doesn't turn off when it's time to house-hunt. According to the NYTimes.com, "This technology is expected to transform the real estate industry and, some say, make house-hunting more efficient."
 Home Technology
"The Jetsons" is definitely one of those old classic cartoons that had you thinking about the future and all the wonders it would bring you, technology-wise. Well, what was once reserved for luxury properties is now available to the mass market. Technology such as voice-activated lighting, and automated door locks and temperature controls are increasingly in demand among all home buyers. These premium amenities are becoming much more commonplace, and are comforts many home buyers consider to be "the basics."
Big Data For Buying And Selling
Like a lot of people, you're probably immediately turned off when you see a friend on Facebook has "checked-in" at a restaurant, theme park or some other place you would probably like to be (other than where you are currently). As annoying as this information can be sitting on your newsfeed, most of that data can actually be useful for your business. Per Realtor.org, "Geographical check-ins and other types of information being shared may help direct you and your agents to the people who will soon be buying and selling."
Technology is changing, and it's enhancing our ability to market to and connect with clients and potential clients. It's always important to stay abreast of new technology trends, and it's equally as important to start embracing these trends to keep your business in tune with what buyers and sellers want. Because, let's be honest, what good is a real estate professional who is behind the times?
Your Real Estate App
If you're a real estate professional who is seriously looking to engage clients in the new year, we've got a great option for you. Here at SnApp Real Estate, we are an experienced real estate mobile app development company that promises to build you high performance real estate mobile apps that will keep you become (or stay) technologically savvy in 2017. These apps will help you streamline your business and connect with clients easier. Take advantage of our easy to use and customize application technology.